Multi-Purpose Air System for SxS
Multi-Purpose Air System for SxS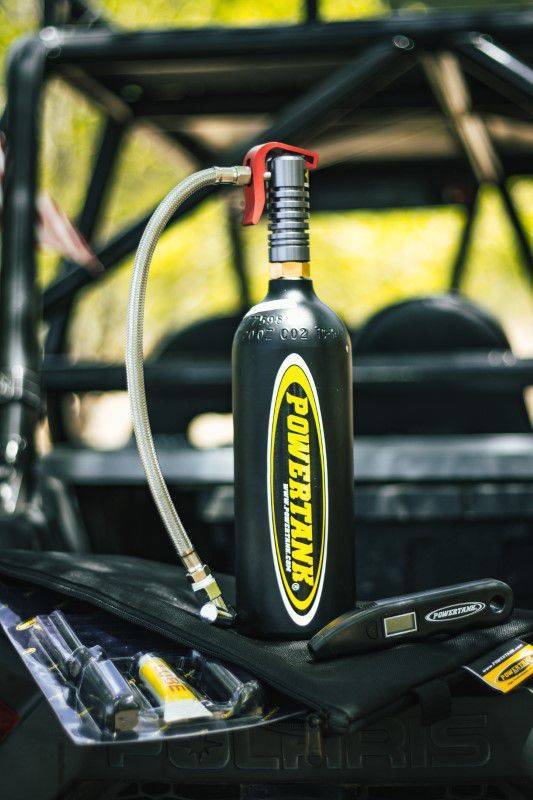 With a Power Shot you can:
Air up tires (up to 7 tires per bottle)

Reseat tire beads

Repair tire punctures

Blow out SxS interior

Operate Pro Eagle Phoenix CO2 jack*

Clean out CVT housings from the inside out*
*Requires Power Shot Upgrade Kit
Power Shot Trigger systems are the ultimate Multi-Tool for your SxS
These simple, portable air systems allow you to air up tires, reseat tire beads, and blow dirt and sand out of your interior.
Power Shot systems use 20 oz CO2 cylinders to air up seven tires before empty (29x9-12 - adding 10 psi). If you have larger tires or would like more tire fills, look into one of our two bottle Power Shot packages, or simply add a spare bottle.
The Trigger regulator is simple to use and provides enough power to reseat tire beads instantly. Screw the Trigger regulator onto the bottle, hold the push-on tire chuck on the valve stem, and squeeze the trigger for instant, high pressure CO2.
All Power Shot packages include a tire puncture repair kit, upgradeable to our Pro Series Tire Repair Kit with premium tools and the ability to fix valve stems and sidewall tears.
When the Power Shot bottle is empty, bring it to a paintball shop or sporting goods store with paintball services to have it refilled for around $5. Properly stored, the CO2 charge will last indefinitely and will not leak out so it's always ready to go.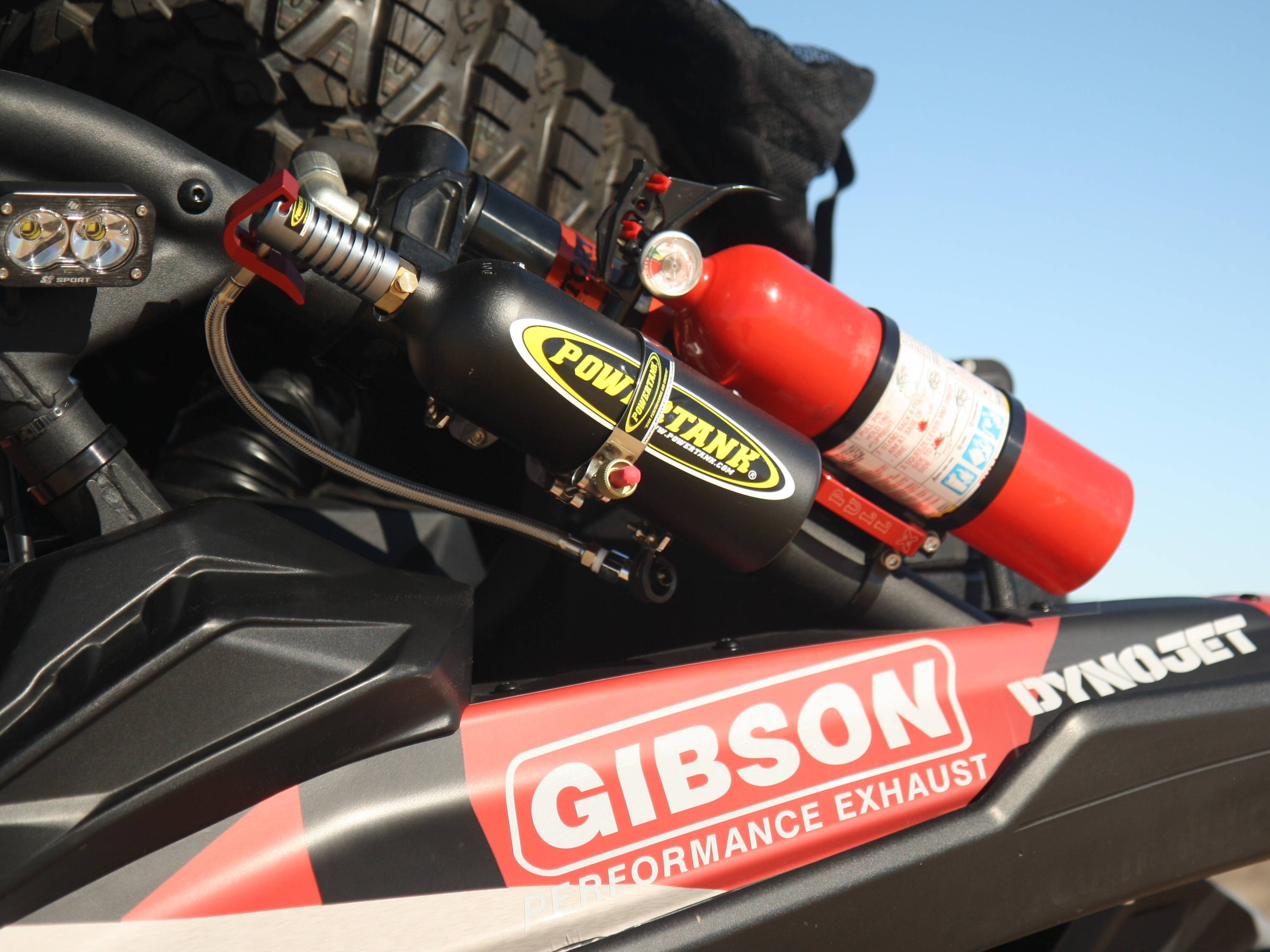 Power Shot Packages with Mounts
Single bottle mounted to your roll bar (1.5" - 2.25" dia) - Keep a spare bottle (optional) in your glove box or tool bag
Dual bottle system mounted side-by-side to the same roll bar (1.5" - 2.5" dia)
Dual bottle system mounted in separate locations (1.5" - 2.25" dia)
Power Shot Packages with Soft Cases
Power Shot system and tire repair kit fits in your glove box
Carry double the CO2 and carry a Pro Series Tire Repair Kit for punctures, valve stems, and sidewall failures
Do even more with your Power Shot!
With the optional Power Shot Upgrade Kit, you expand the capabilities even further with the addition of Quick-Switch Attachments. Quickly switch from your tire air chuck to a Pro-Eagle Phoenix CO2 Jack adapter to lift damaged tires in the air for repair or switch to a 8"-12" extendable blow gun tip to blow out hard to reach areas like the back of your CVT housing or radiator with pinpoint accuracy.
For the same $5 that you'd spend on a single-use 25g CO2 cartridge, you can refill your Power Shot with 20 oz of CO2, good for over 12 lift actuations from your Phoenix Jack*.
Single Power Shot w/ Upgrade Kit mounts side-by-side next to a Quick-Release mount for a Pro Eagle Phoenix Jack* or a 2.5 lb Fire Extinguisher*
Upgrade your standard Power Shot Trigger with Quick-Switch Attachments: Pro Eagle Phoenix adapter, Extendable Blow Gun Tip, Push-On Air Chuck (yellow hose not upgradeable)
Our billet Quick-Release bracket works with our Roll Bar Clamps for a quick and easy mount for your 2.5 lb Fire Extinguisher* or Pro Eagle Phoenix Jack*
Some folks want or need the added utility that comes from a full-size Power Tank setup with an adjustable regulator and hose. If you need to run air tools in remote locations to repair your ride or even to do some construction out on the edge of your property, Power Tank has you covered. A five pound Power Tank mounts cleanly to your roll bar and can air up 28 tires (29x9-12), remove 180 lug nuts (1/2" impact wrench, 90 lb-ft), or shoot 750 8d framing nails, allowing you to get the most Utility out of your UTV.
The SxS Edition includes a complete Power Tank system, hose, roll bar mount, HD Tire Inflator, Pro Eagle Jack Adapter, and a Pro Series Tire Repair Kit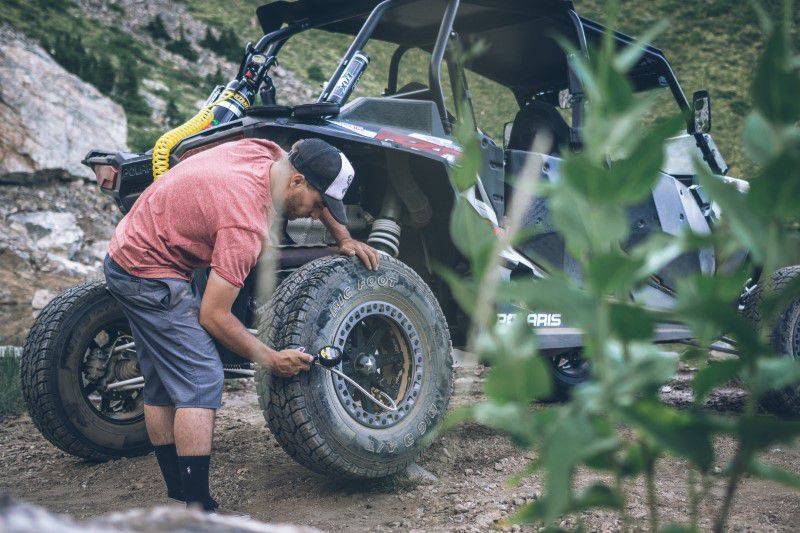 You can refill Power Shots on your own, too. You simply need a transfill tool, a scale and a way to invert the mother tank.
We bundle everything together for you in a convenient package. You can use a 10 lb, 15 lb, or 20 lb CO2 tank in the Inverted Tank Transfill Stand (ITT Stand).
Normally you want to keep your CO2 tanks upright when you are using them so the CO2 vapor at the top can flow to your air tools. When you refill your Power Shot, you want to transfer the liquid CO2 at the bottom of the mother tank, which is why inverting the bottle is necessary for filling.